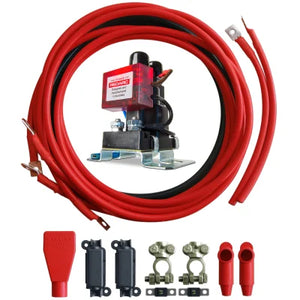 The Smart Start® Dual Battery Isolator and Wiring Kit (SBI12KIT) is equipped with everything needed to install your Smart Start® Dual Battery Isolator including the Smart Start® itself.
The easy-to-install kit is suited for the everyday DIYer since the SBI12KIT doesn't require any crimping or soldering. High-quality MTA 60 amp fuses and fuse holders with the corresponding ring terminals are already attached to the wires.
The SBI12KIT prevents your secondary battery from draining your main battery. It works for harsh automotive or marine environments. And, it significantly extends your battery life, proving to be cost-effective and efficient.
Features:
Overmold design

Compact size and easy installation

Silver contacts for longer life and suitable for marine applications

Power saving technology

Fault indication

Fully surge protected
Not sure what dual battery system is best for your vehicle? Let Shaun Whale explain more.