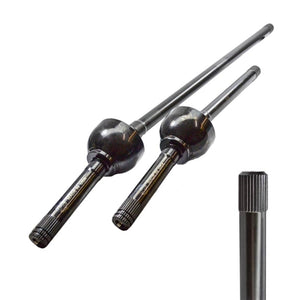 Toyota Land Cruiser 80 Series
Nitro HD Chromoly Birfield & Axle Kit

Fits:
1991-1997 Toyota Land Cruiser 80 Series FZJ80, HDJ80, HDJ81, HZJ80
1991-2007 Toyota Burbuja & Autana (Venezuela built 80 Series Landcruiser)
1998-2007 Toyota Land Cruiser 105 Series FZJ105, HZJ105

Model:
80 Series: FJ, FZJ, HDJ & HZJ
Outer Splines:
30
CV Splines:
BIG 24
*(stays 24 spline at the inside of CV
as it is similar diameter to 30 spline,
and keeps it compatible with OE)
Inner Splines:
30
Material:
4340 Chromoly
Manufacturer:
Nitro Gear & Axle
Warranty:
Lifetime*

Kit includes:
Birfield Joints x2
Right Hand Inner axles x1
Left Hand Inner Axle x1

Tech Note:
*1991-1994 Models require the stronger: TOY43421-60040 1995-1997 type drive flanges.
*Will work with manual hubs, but may require trimming end.
*Dual snap-ring grooves for drive flange or manual hubs.
*Fits both ABS and Non-ABS vehicles.
Birfield Repair Kit AXREBCVJ.

Nitro 80 Series Heavy Duty Chromoly Birfield 30/30 Kits are designed to offer a significant increase in strength over the OEM CV joints, yet remain compatible with OEM components and at fraction of the cost. This kit is a complete solution to upgrade from your worn OEM CV joints and axles. A great addition if you've fitted larger tires, added accessories and use your Land Cruiser off-road. Because they are specially formulated for strength these joints are able to withstand increased shock loading, they join won't outlast standard replacement joints, but they will outlast the competition's chromoly birfield joints due to the harder bearings and cage which provide more wear resistance.

These HD axles boast high-strength chromoly material featuring State of the art machining, heat-treating and polishing processes for uniformity and increased strength. Fully compatible with factory or aftermarket carriers and lockers.




Nitro Gear & Axle strives to provide the highest quality differential & axle components available. We take the steps necessary to ensure our parts are dependable. Our product range is continually growing to meet the needs of consumers for new ratios and Fits. At Nitro, we know differentials and know what it takes to provide you with high quality components.

Supercedes:

AXTBIRF-FJ80KIT

 

WARNING:

This product can expose you to chemicals including toluene and benzene, which are known to the State of California to cause cancer and birth defects or other reproductive harm.
For more information go to: www.P65Warnings.ca.gov



Features:


4340 Chromoly Steel.

Harder bearings and cage than competing brands.

Lifetime Warranty*.

Fits ABS & Non-ABS Models.

Dual snap-ring grooves for drive flange or manual hubs.