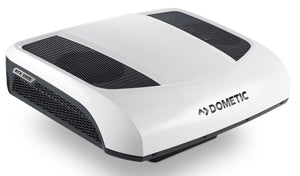 Please note the Dometic RTX 1000 and 2000 are now sold individually from the wiring kit and hardware kit.
This self-contained truck roof parking cooler is battery-operated with up to 12 hours of running time. It is highly efficient with only 19A consumption in Eco mode.
The Dometic Coolair RTX 2000 creates pleasant temperatures for up to twelve hours before the battery monitor gives advance warning and finally cuts off the power supply to keep the engine ready to start. The even more powerful RTX 2000 uses its ample capacity to face hot temperatures in the truck cabin for up to twelve hours. Added to this, the CoolAir is amazingly quiet in operation. The two-cylinder compressor works unnoticeably, leaving the driver to rest perfectly to enjoy all the comforts of the parking cooler: the large, high-contrast display, the individually adjustable air distribution, the four operating modes – and the adaptive automatic mode of the air conditioner. Truck drivers are fascinated by the enormous staying power of the CoolAir RTX.
TECH SPECS
15 1/2" x 19" approximate internal opening
Up to 12 hours of running time
Very quiet (<70dBa)
Turbo cooling operating mode for quick cooling
All A/C components integrated into the roof unit
ADR compliant
High cooling capacity: 2000 W (6,824 BTU)
Highly efficient: only 19A power consumption in Eco mode

Suitable for ambient temperatures of 41 °F to 126 °F
NOT INCLUDED
Fuse Breakers (Please use Blue Sea 187 Breakers 80A)
Batteries
Pro flex Rv Sealant

4AWG Wiring Kit (required for installation)

Install Hardware kit (required for installation)
Nomadic Pro Tip: Make your installation easier by upgrading to the Premium Dometic Interior Gasket. 
For complete dimensions and product information please view the Dometic Guide