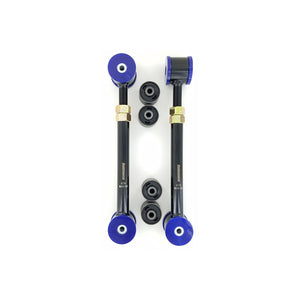 Suits 4th and 5th Gen 4Runner, FJ Cruiser (all years)

Comes with polyurethane bushings and also high quality rubber OE style bushings for maximum flexibility

Made from HSLA (High Strength Low Alloy) Steel, 5mm (0.2″) wall thickness, and powder coated black

Oversized adjusters and rod thickness for maximum strength and durability with double-nut locking feature

Zinc plated, then powder coated black, for the ultimate finish and protection
These are adjustable rear upper control arms, to be used on any vehicle lifted or not, up to 4″ of lift. This kit comes with both upper arms and also includes a full poly bush kit if you don't want to run the pre-installed rubber bushings. The rubber bushings allow for more flex of the rear axle, and will also be noise and maintenance free.  These adjustable arms will allow you to properly set your rear pinion angle due to adding a lift, while also adding strength over the stock arms. Suitable also for long travel rear suspension setups.
Instructions for use: The end with the threads goes towards the frame of the vehicle.  Set initial length to the same as factory arms, then add 1/2″.  Install, check pinion angle, then add at 1/2″ increments until your pinion angle is set properly.  Adding too much length could lead to driveline vibrations.
Suits all these vehicles:
4th Gen 4Runner 2003-2009
5th Gen 4Runner 2010+
Lexus GX470 (all years)
Lexus GX460 (all years)
Toyota FJ Cruiser (all years)